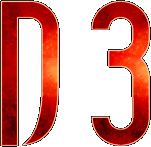 Dedication - Determination - Domination
News:
It's back - August 07, 2016
12+ Years of D3

Guess who fixed some PHP.
7+ Years of D3 - January 30, 2011
The anniversary was last year, sometime around November.
Slight Layout Update - July 09, 2010
I dropped the frames and used more PHP. Clearly I have nothing better to post about.

Oh yeah, I also updated the member list.
6+ Years of D3 - November 13, 2009
This site has been around for over 6 years, apparently. I'm wondering if anyone will notice that this is a new news post.
5+ Years of D3 - November 09, 2008
This site has been around for over 5 years, apparently. And the activity is as strong as ever!
Random New News - February 17, 2008
This news post is here mainly because I got tired of seeing "JJ2WC III Participation" as the headline in my JCF signature. Its secondary purpose is to inform certain individuals (in case they somehow missed the notice in my sig) about the latest update of a certain something. Good times.